Press & Media:

Public Awareness
Raising public awareness coupled with addressing emerging issues, advocacy, and action is essential to making an impact on protecting Canadian children and supporting families. Scroll through the timeline below to view some of the Canadian Centre's public awareness efforts.
2018
Not Your Nudes? Not Yours to Share
An animated campaign highlighting the legal consequences of sharing someone else's sext without that person's consent, and directing users to visit cybertip.ca/sexting to learn more about the law, as well as how to gain back control if their intimate image has been shared.
Real Child, Real Abuse
A campaign reminding viewers that child sexual abuse material is never just a picture, and urging the public to report concerns to Cybertip.ca.
2017
Don't Get Sextorted, Send a Naked Mole Rat
A national campaign that takes a humour-based approach to cut through the clutter and focuses on ways youth can avoid being sextorted and keep themselves safe.
Project Arachnid
A national campaign promoting our automated web crawler and platform that helps reduce the online availability of child sexual abuse material around the world.
Non-Consensual Distribution of Intimate Images
A campaign building on our work with the issue of self/peer exploitation, to focus on how Cybertip.ca can help youth if they have experienced a sexting incident, as well as inform youth that sharing someone else's sext without that person's consent is illegal in Canada.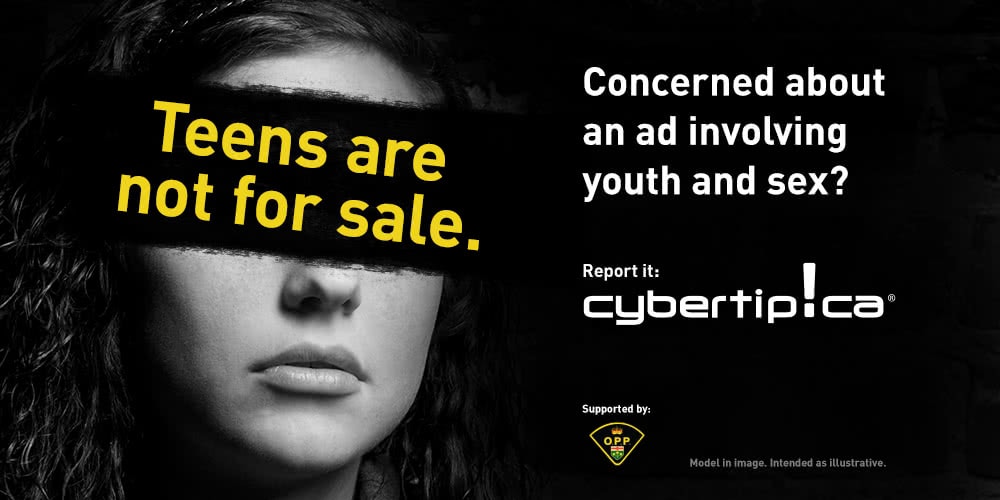 Teens are Not for Sale
A campaign in collaboration with the Ontario Provincial Police encouraging people in Ontario, and across Canada, to report child trafficking and child sexual exploitation to Cybertip.ca.
2016
#ChangeTheStory
A campaign empowering teens to take control of their own narrative and change how their story is being told when they have (or someone they know has) been negatively impacted by a self/peer exploitation incident.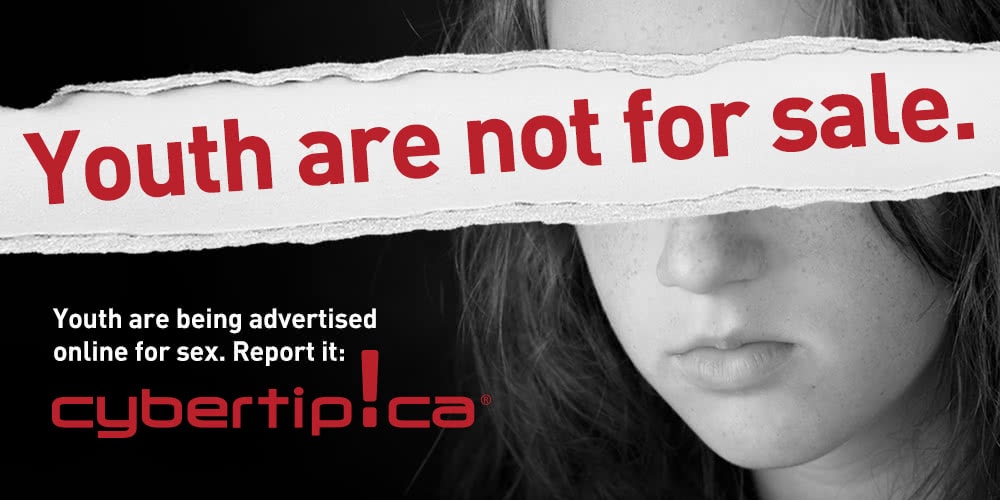 Youth Are Not for Sale
A campaign encouraging Canadians to report incidences of child trafficking and children exploited through commercial sexual exploitation online to Cybertip.ca.
Every Click Helps Us Protect Children from Sexual Abuse
A national campaign demonstrating how tips from Canadians can help protect children from sexual abuse.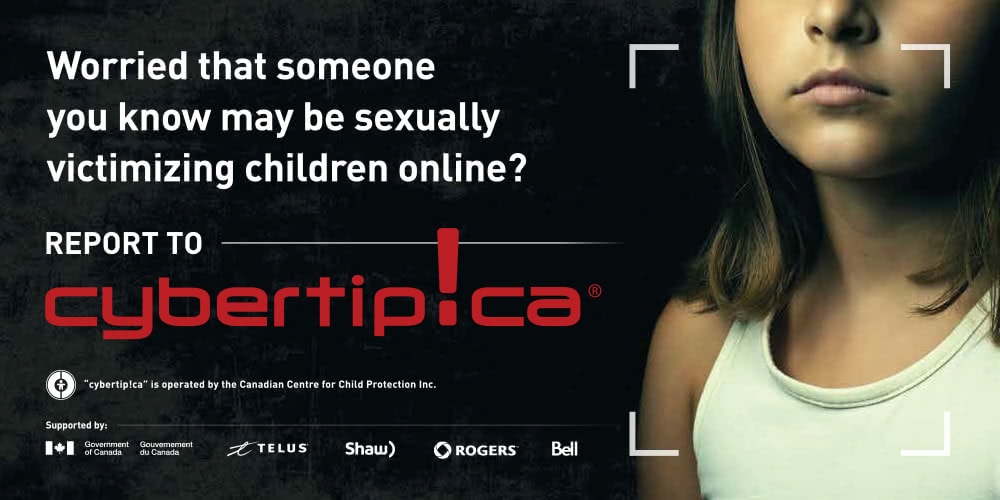 Worried That Someone You Know May be Sexually Victimizing Children Online?
A campaign pertaining to the mandatory reporting of child pornography in Manitoba that encourages Manitobans to report concerns to Cybertip.ca if someone they know may be victimizing a child(ren) online.
2015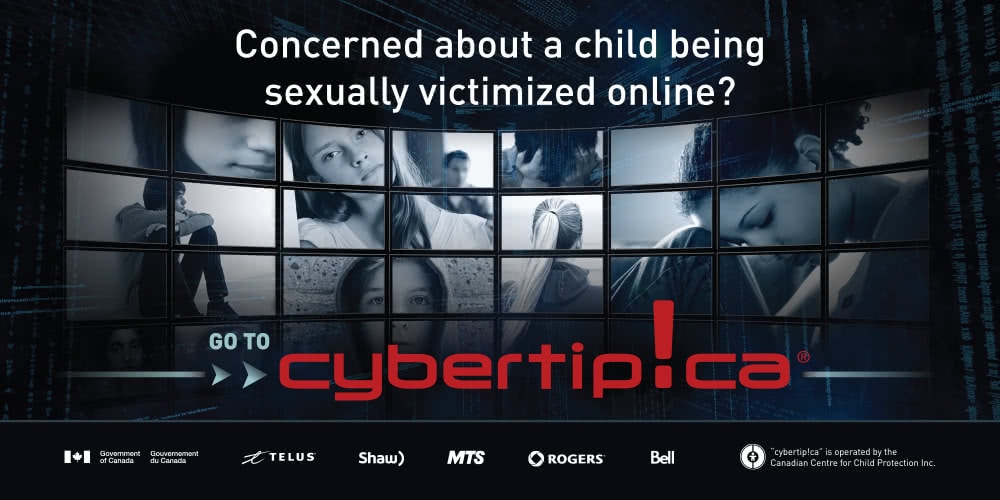 Concerned About A Child Being Sexually Victimized Online?
A national campaign encouraging concerned adults to report online child sexual victimization to Cybertip.ca.
2014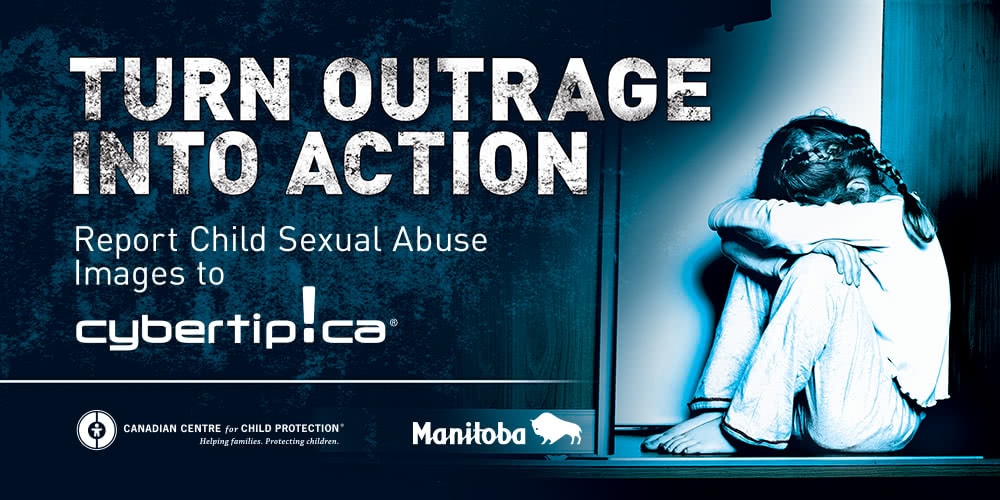 Turn Outrage into Action
A campaign tied to the mandatory reporting of child pornography in Manitoba that encourages the reporting of child sexual abuse images to Cybertip.ca.
Help Kids Achieve their Dreams
A campaign featuring RA Dickey of the Toronto Blue Jays that raises awareness of the Commit to Kids program and new resources for sport organizations.