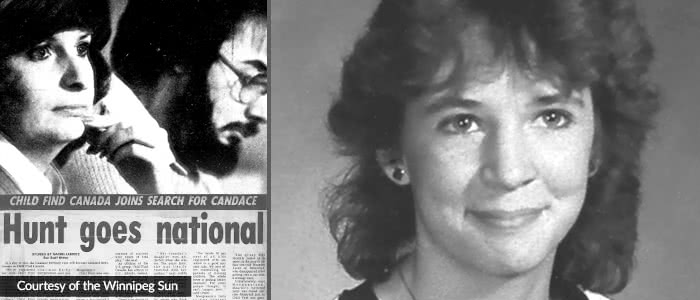 The Canadian Centre for Child Protection (C3P) was founded in April 1985 as Child Find Manitoba following the disappearance and murder of 13‑year‑old Candace Derksen. Her mother, Wilma, started the organization with a handful of volunteers and the vision to provide the essential services her family did not have access to during and following Candace's disappearance.
In 1999, after nearly 15 years of providing missing children services, staff recognized the growing threat of online sexual exploitation of children and the connection between children that went missing and an online encounter. Originally launched as a pilot initiative, Cybertip.ca was established in September 2002 as a centralized location for Canadians to report online child sexual exploitation, and to access education and prevention resources to help keep children safe online. Since then, our agency has grown into an international leader in child protection.
2004 – 2009
May 2004 The Government of Canada recognizes and announces Cybertip.ca as Canada's national tipline for the public reporting of online child sexual exploitation under the National Strategy for the Protection of Children from Sexual Exploitation on the Internet.
July 2004 Cybertip.ca meets with the RCMP's National Child Exploitation Coordination Centre, the Department of Justice, and internet service providers to form the Canadian Coalition Against Internet Child Exploitation (CCAICE).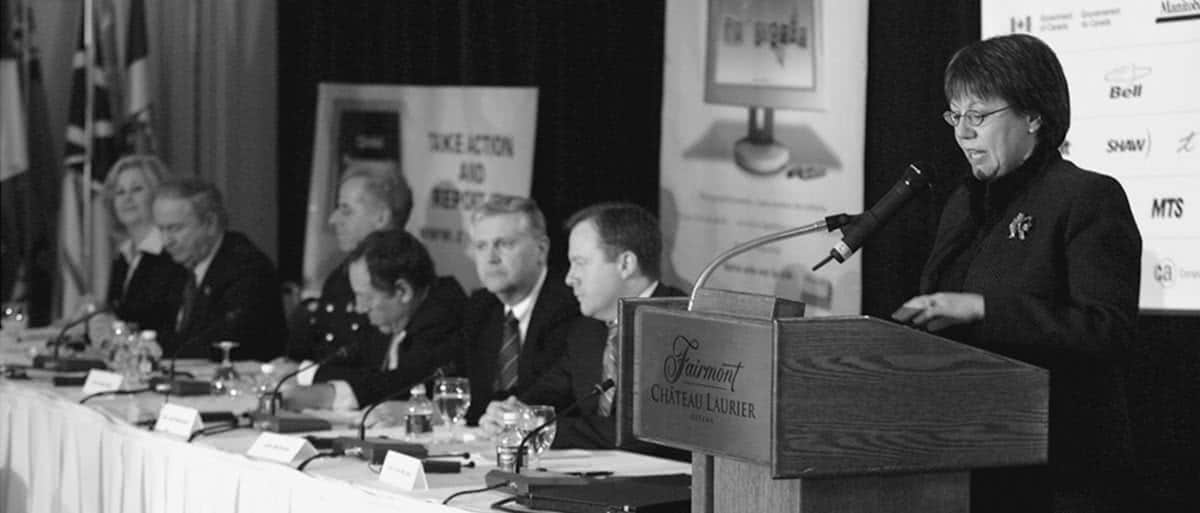 Fall 2004 C3P's first education program is introduced. Kids in the Know is a national, interactive, safety education program designed to empower children from kindergarten to high school in order to reduce their risk of victimization.
May 2006 The organization changes its name from Child Find Manitoba to the Canadian Centre for Child Protection (C3P) to more accurately reflect its national role in the protection of children.
November 2006 Cleanfeed Canada launches. This initiative involves Cybertip.ca providing a URL list to participating ISPs who voluntarily block access to prepubescent child sexual abuse content hosted outside Canada.
November 2007 Commit to Kids, a step‑by‑step plan to help organizations reduce the risk of child sexual abuse of children in their care, is developed. The program is piloted through 2009 and released to the public in 2010.
2010 - 2014
Spring 2010 C3P takes over operation of Child Find Ontario. A year later, C3P launches MissingKids.ca, a national missing children resource centre to support families in finding their missing child and provide educational materials to help prevent children from going missing.

MissingKids.ca launched in 2011 and marked with the Right Honourable Stephen Harper, Prime Minister of Canada. Source: Office of the Prime Minister

October 2012 The School and Family Approaches to Intervention and Prevention: Addressing Self/Peer Exploitation guide launches in response to the growing issue of intimate image incidents reported to Cybertip.ca.
July 2013 C3P issues the first Cybertip.ca Alert to inform the public of concerning technology trends and new resources designed to increase children's personal safety.
October 2013 C3P launches NeedHelpNow.ca for youth impacted by a sexual picture/video being shared by peers, providing them with practical steps to regain control over the situation.
October 2014 C3P tables its Digital Agenda for the Protection of Canada's Most Vulnerable Victims at a roundtable discussion with the Right Honourable Stephen Harper, Prime Minister of Canada, law enforcement officials, industry, and fellow advocates to strengthen the national resolve, commitment, and coordination in the fight against online child sexual exploitation.
2015 - 2019
April 2015 C3P celebrates 30 years of protecting children. Joined by 500 guests from across Canada, we looked back on all that we've accomplished and recognized those who have assisted us along the way. The Right Honourable Stephen Harper, Prime Minister of Canada, brought special remarks and we welcomed parliamentarians, funding partners, supporters, law enforcement officials and the many families whose stories have shaped our agency.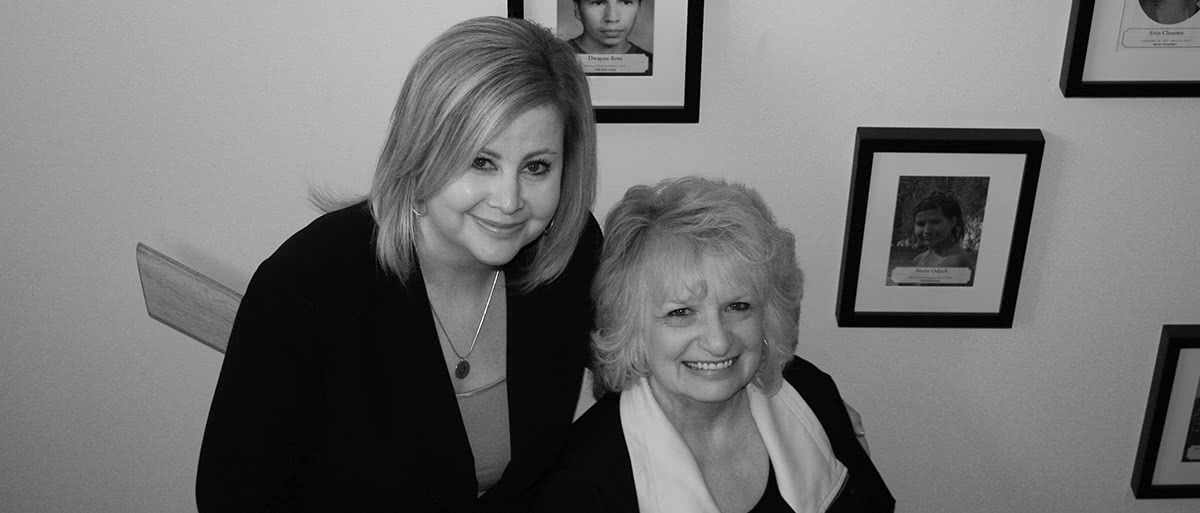 January 2016 C3P releases Child Sexual Abuse Images on the Internet: A Cybertip.ca Analysis based on the review of close to 152,000 reports, examining 43,700+ unique images and videos classified as child sexual abuse material (CSAM). At the same time, recognizing that for too long these victims had been seen but silenced, C3P launches a survey for the first generation of victims whose CSAM had been distributed online. Results of the survey are published in 2017.
April 2016 C3P hosts an event attended by federal ministers, members of parliament, senators, as well as industry and police partners at Parliament Hill, introducing our innovative, victim-centric set of tools to combat the growing proliferation of CSAM, Project Arachnid.
May 2016 C3P releases its preliminary findings from the Abducted then Murdered Children: A Canadian Study.
October 2016 C3P hosts the Survivors' Survey Summit in Ottawa with experts from Canada, the U.S., and Europe working in legal, law enforcement, and child protection fields. The summit gathered insightful recommendations to help determine what information was most relevant for different fields working in the child protection space.
January 2017 C3P launches Project Arachnid — an automated platform that helps detect CSAM and reduce its online availability by issuing notices to service providers for removal. Since then, Project Arachnid has evolved into a multi‑tool platform, including the addition of Shield by Project Arachnid in 2019, a proactive tool industry can use to quickly detect known CSAM on their services.
February 2018 Adult survivors of child sexual abuse that had been recorded and distributed online connect in-person with the help of C3P. This meeting was the first of many that the survivor group, self-titled the Phoenix 11, would have, acting as an advisory committee to help guide C3P's supports and resources for survivors.
June 2018 C3P releases the most comprehensive study of child sexual abuse by school personnel ever done in Canada. This data reveals the number and nature of sexual offences committed (or allegedly committed) against children by employees within K‑12 schools across Canada between 1997 and 2017.
July 2018 C3P hosts a tactical advocacy planning summit with the Phoenix 11 and representatives from the National Center for Missing & Exploited Children (NCMEC) and other professionals.
December 2018 The Phoenix 11 share the long-lasting impacts they experience as survivors of CSAM in Ottawa with the Honourable Ralph Goodale, Minister of Public Safety and Emergency Preparedness.

"Listening first-hand to these brave young women speak candidly of their horrific childhood sexual abuse and its life-long impact was absolutely devastating and a definite call to do more. The sexual exploitation of children and its distribution online are abhorrent and intolerable crimes and I continue to be committed to victims and survivors and to push for the eradication of child sexual abuse imagery online both in Canada and internationally, through the G7 and the Five-Eyes Alliance."

- The Honourable Ralph Goodale, Minister of Public Safety and Emergency Preparedness

February 2019 C3P's legal team files the Phoenix 11's community impact statement in court for the first time. The Phoenix 11 impact statement is first accepted in an Ontario court a month later.

"I have no hesitation in concluding that these powerful statements are a fair representation of the very real pain and suffering that child pornography – its production, possession, and distribution – inflicts upon those who have the highest claim in society's solicitude and protection: our children."
- R v Jonat, 2019 ONSC 1633 at para 55.

March 2019 Moms whose children were victims of CSAM visit C3P and record six victim impact statements to be filed in court cases where their children's imagery was part of an offender's collection.
September 2019 C3P's legal team submits their first community impact statement in a non-consensual distribution of intimate images case.
November 2019 A series of now-defunct web forums known as the "Trichans" were facilitating the availability of more than a million CSAM images. After C3P pressured upstream service providers and issued over 700 thousand takedown notices through Project Arachnid, the forum's administrators eventually capitulated and closed the sites permanently. C3P's role in this victory for survivors was reported by the New York Times, and was also the subject of an academic paper.
December 2019 Our agency releases our framework How We Are Failing Children: Changing the Paradigm, an urgent call to action for governments, industry, and hotlines around the world that is grounded in the best interests of the child, and their right to dignity, privacy, and protection from harm.
2020 - 2023
March 2020 C3P releases survey findings while supporting the Five Country Ministerial's Voluntary Principles to Counter Online Child Sexual Exploitation. In just over three months, 10,500 respondents overwhelmingly indicate that technology companies must be held accountable for failures to remove images/videos harming children, and government should pass laws that include penalties for non-compliance.
April 2020 Reports to Cybertip.ca rose by 40% during the first two weeks of the COVID-19 pandemic - by the end of the 2020 fiscal year, that figure rose to 106%. In response, C3P integrates our support services team with staff from Cybertip.ca to create a system that uses evidence-based practices to support survivors of online sexual violence.
December 2020 C3P, along with international allies, releases a letter on behalf of survivors of CSAM urging the E.U. to approve the continued use of detection tools on messaging platforms that help protect children from online exploitation.
December 2020 C3P releases a report that examines the availability of CSAM‑specific reporting mechanisms on 15 major platforms, along with presenting five recommendations for companies that allow user‑generated content on their service.
June 2021 C3P releases the Project Arachnid: Online availability of child sexual abuse material report, which provides unprecedented insight into the availability of CSAM and the role vast networks of lesser‑known technology companies play in facilitating the spread.

The report finds that a French-based company called Free is among the largest file hosters of CSAM on the internet, and was notified its users were using their service for this purpose on multiple occasions. Less than 48 hours following news coverage of the report, the company not only removes all CSAM known to Project Arachnid from their service, but also updates its terms of service for the file hosting portal, granting access to only those who subscribe to its telecommunications services, effectively eliminating anonymity on the service.
March 2022 Lianna McDonald joins a Government of Canada expert advisory group to help address the issue of harmful content online.
April 2022 C3P releases Reviewing the Enforcement of App Age Ratings in Apple's App Store and Google Play, which leads to many findings that raise significant concerns for the protection of children/youth online, and for families who use age ratings to gauge safety.
May 2022 International experts on online harm and child sexual exploitation gather at C3P's Think Tank to develop strategies aimed at fighting back against unsafe digital spaces putting children at risk and the removal of CSAM from the internet.
October 2022 Survivors and families whose lives have been irreparably changed because of online sexual violence meet with the Honourable Marco Mendicino, Minister of Public Safety, the Honourable Pablo Rodriguez, Minister of Canadian Heritage, and the Honourable David Lametti, Minister of Justice and Attorney General of Canada. During the virtual roundtable, victims share their stories and implore the government to regulate the internet to keep Canadian children and survivors safe from online harm.
November 2022 In collaboration with Stop Educator Child Exploitation (SECE), C3P releases an updated report on children found or alleged to have been sexually abused by Canadian school personnel, along with recommendations for policymakers.
November 2022 C3P releases a first report of its kind, an open-source analysis of 6,500+ first-hand accounts shared publicly by sextortion victims on a popular support forum. This sheds new light into what has quickly become a public safety emergency affecting many Canadians and online users abroad.
March 2023 C3P releases new survey findings, Parents' Perspectives on how Child Sexual Abuse Material Impacts the Entire Family, where twenty parents from around the globe whose children's sexual abuse was recorded gave their feedback. This documents how the abuse affects their well-being every day, and shares important insights into gaps in services and supports that must be addressed internationally.
June 2023 C3P, alongside other important allies in our space, presents to UN Member States, calling for united global action to fight back against the online availability of CSAM. Following the meetings and final presentation, 75 governments came together with a call to action, stepping up the battle against the global epidemic of online CSAM.